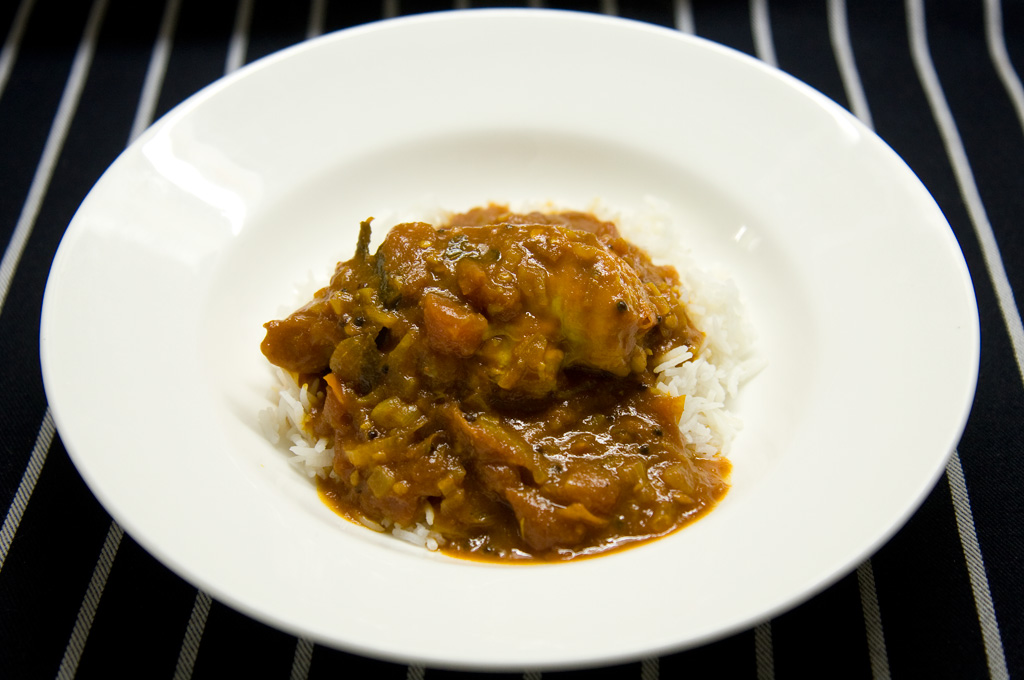 This recipe gives pride of place to one of my favourite ingredients, tamarind, a purple-black pulp that gives dishes a sharp sourness and adds a rich depth to the flavours. It's used a lot in South Indian dishes, which is where this recipe hails from. In fact, in its original form the recipe calls for fillets of fish, rather than chicken, but having a partner that is none too fond of fish means I have to improvise when it comes to seafood. If you're doing this with fish instead of chicken, just reduce the cooking time for the meat (you'll only need about 5 minutes) and get the sauce nice and thick before you add the fillets.
Ingredients
Vegetable oil
1 tsp mustard seeds
10 curry leaves
2.5 cm piece of ginger, chopped
3 garlic cloves, chopped
3 onions, chopped
1 tsp ground turmeric
1/2 tsp chilli powder
4 tomatoes, chopped
1 tbsp tomato paste
Salt
1 cup tamarind water and pulp
To make the tamarind water and pulp: soak a 5 cm piece of tamarind in hot water for about 15-20 minutes. The water will turn a deep purple/brown colour and the tamarind itself morph into a messy pulp (trust me, it tastes better than it sounds). Strain the water through a sieve and set aside. Push the messy pulp through the sieve and scrape off the nice clean pulp that comes through the other side. Keep it aside and ditch the woody crap that's left behind in the sieve.
1 cup water
4-6 chicken fillets – beaten to same thickness if necessary
Method
Get a large splodge of oil hot and add the mustard seeds.
When the mustard seeds start to pop, add the curry leaves, ginger and garlic.
Stir for a few minutes – you want garlic to brown a bit.
Stir in the onions, turn down heat to moderate and cook for about 10 mins, until the onions start to slightly brown.
Stir in the turmeric and chilli.
Add the chopped tomatoes and tomato paste.
Add salt to taste and let it cook for a minute or so.
Pour in your tamarind water and paste, plus the cup of water.
Give the whole thing a good stir, bring it to the boil then simmer until the sauce thickens. (If you're doing this with chicken, you don't want it too thick yet, you'll need liquid to cook the meat. If you're using fish, let the sauce thicken now as the fish only needs about 5 minutes of cooking.)
Slide in the chicken pieces, put on the cover and cook for about 15 minutes.
Remove the lid and let the sauce thicken on a low heat for a couple of minutes.
Serve with fluffy basmati rice.