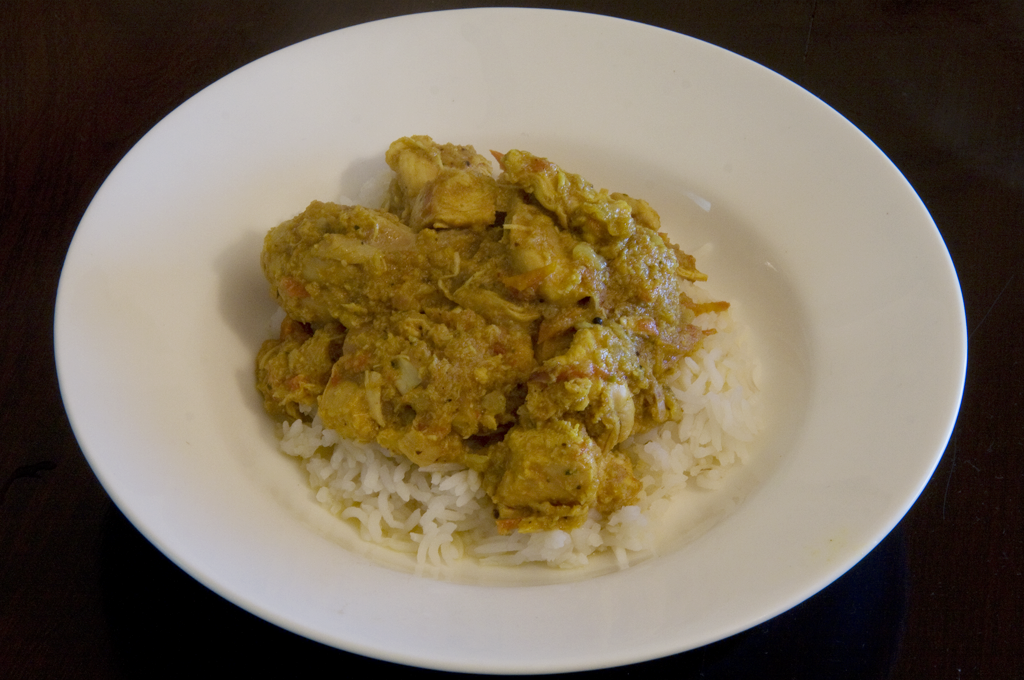 The South Indian state of Kerala is rightly known for its seafood dishes. This, however, is not one of them. Actually, it could be. You could easily substitute prawns for the chicken in this dish. In fact, you could probably get away with pork, lamb or goat if you fancied it.
The dish is made in three parts. The first is making a roasted coconut paste, while the final stage is a sort of "fixing" of the flavours, which helps give an added depth.
The recipe uses curry leaves, which should be available at any decent Indian grocer, especially if they hail from the south, where the leaf is a common component in cooking. I have to say, I'm not a huge fan of the curry leaf – it tends to have a similar effect to asparagus, if you follow me. In an emergency, you can substitute bay leaves, but since this dish already uses them, I'd suggest hunting them down – and putting up with your fragrant excretions the following day.
Ingredients
The Paste
100g fresh (or desiccated) coconut
2.5cm piece of ginger – sliced
4 garlic cloves – sliced
2.5cm cinnamon stick
3 cloves
3 bay leaves
10 curry leaves
5 black peppercorns
1 small onion – chopped
The Main Bit
500g onions – chopped
2-3 green chillies – chopped
250g tomatoes – chopped
2 tbsp coriander powder
2 tsp turmeric powder
1 1/2 tsp chilli powder
1 kg chicken pieces (breasts cut into 2.5 cm chunks)
Salt
The Seasoning
1/2 tsp mustard seeds
1 small onion
Chilli powder
2 curry leaves
Method
The Paste
Fry the coconut, ginger, garlic, cinnamon, cloves, bay leaves, curry leaves and peppercorns in a dry pot until the coconut turns golden. Set aside.

Thrown in some oil, then add the small chopped onion. Fry till golden. Add to dry fried mixture.

Blend fried mixture to create a paste. Add water as necessary. Set aside.
The Main Bit
Fry the onions and chopped chilli till the onions are translucent.

Add chopped tomatoes, stir, and cook till the tomatoes fall apart. Putting the lid on will help the process.

Add coriander, turmeric and chilli powder.

Give it a good stir – it will be looking fantastically orange and red at this stage.

Add salt to taste.

Stir in the coconut paste mixture.

Add meat and stir.

Add water to cover, bring to the boil and reduce heat.

Cook until liquid reduces to a thick gravy.
The Seasoning
Heat oil in a pan.
Add mustard seeds, they'll start to pop. Wait till they finish, then add the curry leaves, stir, and then the small chopped onion and chilli powder.
Cook till the onion is golden then stir into the chicken mixture. Cook for another 5 minutes or so.
Serve with rice or breads.