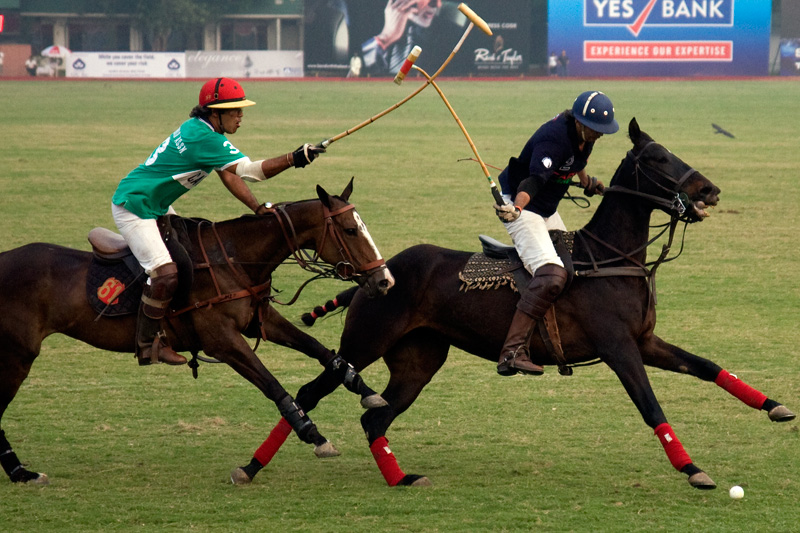 I'm not really up to speed with the game of polo, beyond the fact that it appears to be played and watched by toffs – and that at half-time you wander onto the poop-covered turf to stomp divots back into the ground (thank you Richard Gere and Julia Roberts).
So when an invitation arrived for an afternoon at the polo, I was more than happy to watch horses (sorry, ponies) gallop about for a few hours. The invitation also included seats in a corporate box, which usually translates to "free booze" and as such my attendance was more or less guaranteed no matter what the occasion.
My first dilemma was "what to wear". A Polo shirt seemed the most obvious and natural choice, but the silence on my wife's part when I suggested this sartorial avenue meant I was being either too literal or too casual. Either way, I figured I'd go with the general rule that you can never be over-dressed. Abandoning the idea of morning dress on the grounds that it would be just a little over the top, I opted for an ordinary suit and tie. As we drove into the grounds of the racecourse and towards the polo ground, however, I started to fret that perhaps even this was a little overdone and I'd look like a knob.
I needn't have worried – the dress code at the ground ranged from aforementioned polo shirts and jeans to suits and blazers. In fact, it was the staggering range of outfits on display that intrigued me when we first arrived. One old boy was wearing a floppy, wide-brimmed straw hat, a linen jacket, waistcoat and corduroy trousers, all topped off with a massive moustache. It was fantastic and a sure sign that there are benefits to getting older – you can get away with wearing the most insanely eccentric kit.
The crowd itself was a mixed bag. There was a large slice of Delhi's very, very important people, the odd toxic expat ("Yes, these seats ARE taken") with requisite bad bleach job, and a surprising number of families out to watch a sport they very keenly followed. Since one of the finalists was a Cavalry unit, there was also a high contingent of military types, as evidenced by the winning names drawn out for the numerous door prizes. I'm not saying the draws were skewed in any way, but there seemed to be a lot of senior officers taking home plasma TVs.
On the field it was all action. It might be a game for toffs, but they are – I must say – athletic and rather skilled toffs. It takes a lot to ride a horse (pony) at full pelt, swing a large mallet and strike a small ball in roughly the direction you want it to go. I imagine it's even more difficult when there's someone else swinging an equally large mallet in your general direction trying to stop you.
While my knowledge of the game was lacking, our neighbours knew their stuff and were calling out fouls before the referees, which was quite often. In fact the referees would be right at home officiating a northern hemisphere rugby match. Us novices were also helped by the ground announcer, who very kindly offered tidbits of information about the game when he wasn't getting completely wrapped up in things and screaming "Oh. My. God. OH! MY! GOD! OHMYGOD!" every time a player made a break with the ball.
At the midway point it was time for the only bit of polo I know about – stamping about on the field. While we were keen to take part we were even more keen to hold onto our seats, which were in short supply. So instead we sat and watched as the girls in their cocktail dresses and sun hats clutched their designer handbags and gingerly tip-toed onto the field. Of all the things I thought I'd see in my life, this was not one of them. I'd have even given you good money that I wouldn't see veteran India old hand Mark Tully wander onto the pitch with his two dogs and stand there smiling at the crowd.
As the day wore on I started to get the swing of things and it became clear, despite the tight score line, that Cavalry clearly had the measure of their opponents, Jindal-Carysil. Well, they would, wouldn't they? They're cavalry, after all. As the late afternoon gloom descended on the ground they pulled away to win the trophy by two points.
All up, not a bad way to spend a Sunday afternoon in Delhi during winter.