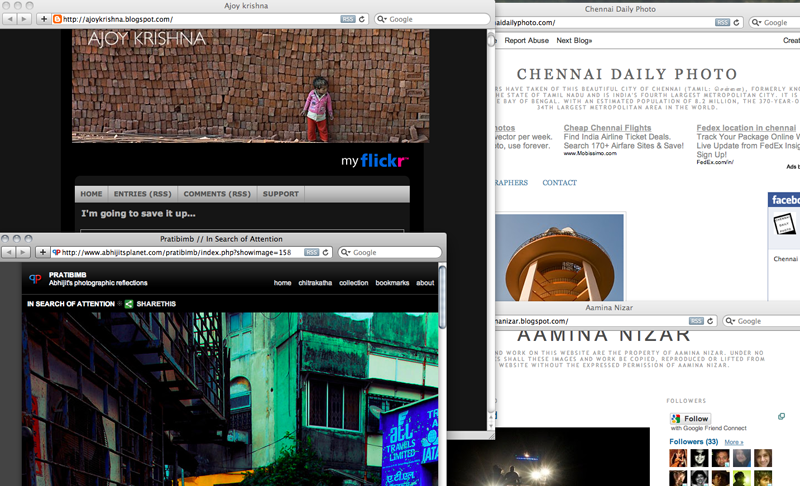 In case you hadn't noticed, I like photography. My camera comes most places with me – even on grocery runs. However, as well as taking my own photos I enjoy being inspired by others, and given the rich variety of life and landscapes in India, there's a lot to be inspired by. The following are a selection of photo blogs and portfolios from across India – from north to south and places between – giving a colourful insight into life on the Subcontinent.
A Sri Lankan studying in Mumbai, Aamina takes a journalistic route to covering life in India. As well as stunning images of Ladakh and beautiful portraits, she includes coverage of events such as the one-year anniversary of the terrorist attacks on Mumbai.
Ajoy knows the value of light, making it work in both monochrome and colour. His portraits are beautiful and some of his landscapes are haunting.
A Thousand Dreams Such As These
Thulasi Kakkat is a Kerala-based photographer currently making the most of the monsoon. Instead of putting the camera away as the rains come down, he's produced some stunning images of life in the big wet.
Looking for a slice of life from the capital of Tamil Nadu? Look no further. This group of snappers brings you everything from street cricket to karaoke.
The still lifes from Kerala-based Deepa are a rich source of colour and contrast. She also does a nice line in abstract.
Mumbai-based photographer Abhijit Dharmadhikari captures evocative, almost abstract, images of life on the street in the financial capital, among other places.