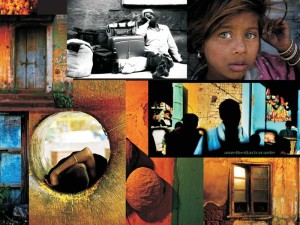 "It's easy," said my wife over the phone.
"Keep going till you see the goat tied to the tree. There's a gap in the fence behind; go through there, past the burning piles of rubbish, through the lane made from corrugated tin walls. Turn left and you're there," she said, rather too breezily for my liking.
I was feeling increasingly uncertain about the exhibition I'd been asked to take part in. The location sounded like a venue for a Tarantino film, not an artistic venture.
As is pretty much the case in all things, my wife was right – even down to the restrained goat – and I found the place with no fuss. Tucked behind the aforementioned corrugated tin and piles of refuse is a veritable oasis of whitewashed calm and cool leaves in the seething cauldron of Delhi.
Set in a converted factory, O Palacio houses a Goan restaurant, a couple of fashion boutiques and a beautifully shaded courtyard. It also has a great exhibition space, which is why I found myself there for the opening of "Secret Delhi", a photographic exhibition of 35 photographers giving their perspective on "what we are".
I'd been asked to display a photo I'd taken while out and about in Old Delhi one afternoon. While I was hugely chuffed to be asked, I had a problem: I didn't particularly like the picture very much and had others I'd much rather people saw, especially as this was the first time a photo of mine was being exhibited anywhere outside my mum's lounge.
Technically, I suppose, there's nothing wrong with it. It's just that it's of a rather large man dressed as a demon. It's quite confronting – a testament to the performer's ability to get into the role of being a bad egg – and I can't imagine it hanging on anyone's wall.
When we got to the venue I was impressed. There was a lot of talent on display and it was a while before I realised I hadn't even bothered to look for my picture. At first I thought maybe it wasn't there but eventually I spotted it, hanging with some other gods and demons. The printers had done an excellent job – a tip of the topee to SV Photographic in Chittaranjan Park for their printing and framing efforts.
The exhibition runs until June 15 and, as I say, there's a lot of photographic talent and inspiration on display, so check it out if you're in the Saket area. Even if the photography is not your thing, the venue is a perfect antidote to a crazy Delhi day.
Just follow my wife's directions.
————–
Secret Delhi
9 may till 15 June 2010 at Galeria de Arte
O Palacio opposite DLF Saket Mall
Saket
12 noon to11 pm